As usual, all my kits are available on this web site and at 
 https://www.etsy.com/shop/rosiesdesignsshop 
and
 https://e-scapeandscrap.net/boutique/
In the last blog I promised that Lilac and Wine was coming.
You can now see it in the shop on this site, in the Etsy store and
in the E-scape and Scrap store. The featured image at the top of this blog
was produced using only Lilac and Wine.
Now, I also told you that I was working on a new kit, "Romantically
Rustic"  and that it was mainly in my mind. Well, it is, for the moment,
firmly lodged in the strangely convoluted labyrinth that is my mind
and refuses to come out. My new kit, which is quickly taking form, is 
called "Trading Spices". There will be a collection of spice plants, roots and flowers with jars of ground spices. I am realy enjoying making this kit and so it is going really well.
I do hope that you are all staying safe in these rather difficult times.
Looking on the bright side, you will have more time at home to make pages. Small children can be kept busy for  hours if you print out elements and have them cut them out to glue everywhere. On second thoughts, restrict access to the glue!
Here, then, is a FREE mini-kit to be going on with.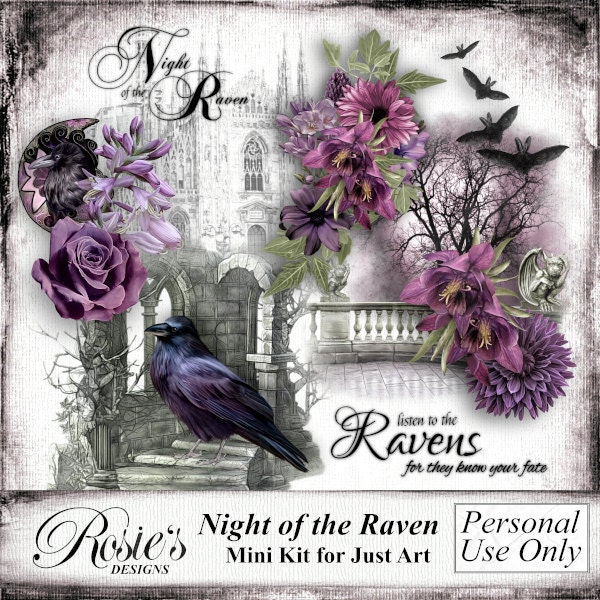 http://www.mediafire.com/file/7aepy0rxa352vcb/Night_of_the_Raven_Mini_kit.zip/file