As usual, all my kits are available on this web site and at 
https://www.etsy.com/shop/rosiesdesignsshop/ 
and
https://e-scapeandscrap.net/boutique/
My latest kit, The Explorers: Ocean Adventures, is not quite ready yet
but will be in my shops and on this site next Sunday.
The plan is to produce  other kits in The Explorers series, at least on for Terra Firma and one for Air. There may be others, let us see where my imagination takes us!
Once a month I give away a FREE Mini-Kit on JustArt
where I have been a member for 3 years.  The site is owned and
operated by Robyn and is best described in her own words:
Just Art is a site where you are invited to experiment with digital art and/or scrapbooking. We aim to provide an environment where you  can feel comfortable to share your work and techniques with others.  We  do not have a store and are not associated with any store or designer.   That means it's a win win for you.  You can create to your heart's  content and use whatever you have in your own personal stash! We have all different levels of expertise  within our group, and beginners as well as more experienced members are  most welcome to join us! Our members share a wealth of experience and  talent and are always willing to 'share and care'!  We pride ourselves  on having a caring, family environment.  New members are always warmly  welcomed and encouraged to become part of our community! We have numerous monthly challenges hosted by our members.   Freebies are often provided by our generous community.
Robyn 
This month's FREE kit is the  Fading Memories Mini-Kit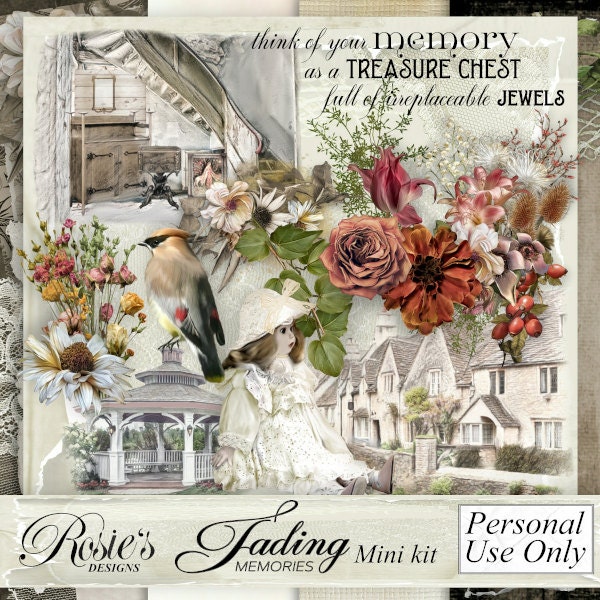 As usual, let's keep on thinking of all those doctors, nurses and other medical staff who are keeping us safe.